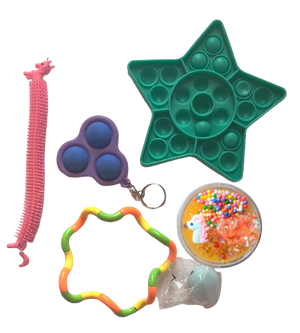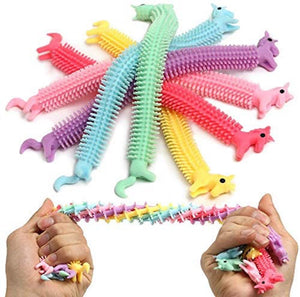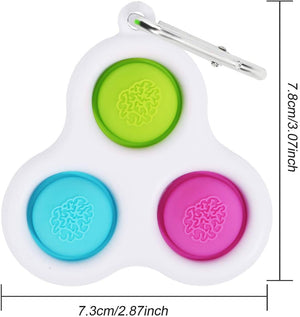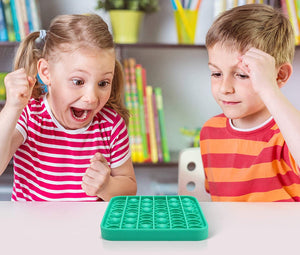 RosieSensations
Bubble Pop, Tangle, Squishy, Keychain Pop & Stretchy Unicorn Rope, Slime & Kinetic Sand 7 pc Set Bubble Fidget Sensory Set
This is a 7 pack Bubble Fidget Sensory Stress - Relief Set. You will get one of each, Bubble Pop, Tangle, Squishy, Keychain Pop & Stretchy Unicorn Rope, HandMade Slime & Kinetic Sand

What you need: Relief stress and relax at home, at work, or anywhere you go with your fidget toy. The kinetic desk gadget is fun, satisfying, addictive, and at the same time, will teach you discipline and skill control.

Made to last: The stress toy is made of the ultimate quality solid piece of silicone, a material that stands out due to its resilience and the fact that it will pass the test of time. Each stress relief toy is cleanly cut using a precision-machining method, ensuring the fine lines and unique design.

Perfect skill games: One of the best parts about our desk toys is that you need to gain a certain amount of skill to perform with them. You can try or invent multiple tricks, impress your friends, or organize competitions with your colleagues.

Portable and compact: Our toys for children or adults stand out due to the compact pocket sized design that will ensure easy and comfortable fitting in your pockets. The small scale and flat type form of our kinetic toys are perfect for taking it with you wherever you go.

Our pledge: All our products check the highest quality standards, so you can be sure that the kinetic desk toy will surpass your expectations.

Each set comes with a variety of colors and shapes Pictures are just for description purposes.
Thanks for coming by. Rosie
In Comments Please note Boy/Girl/ or no preference. Also Favorite Color & Trigger Color And I will try to accompany to these preference. Just want everyone to be happy.
Thanks for your order.