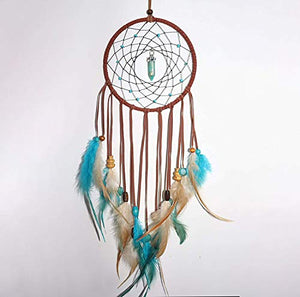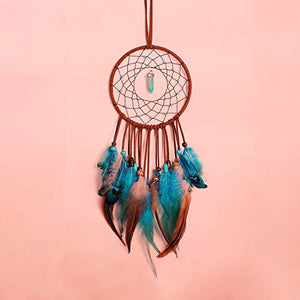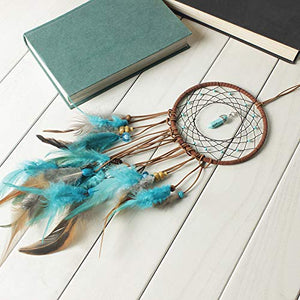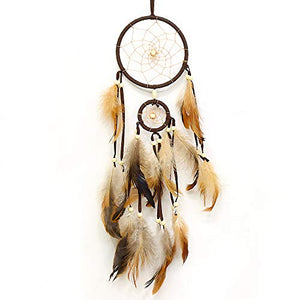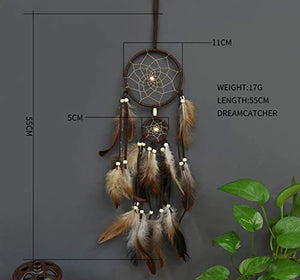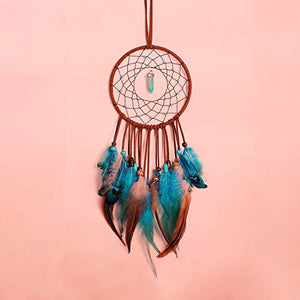 RosieSensations
Dream Catcher Handmade Feather Wall Hanging for Kids Home Decoration Girl Bedroom Decor Dream Catchers Ornament Craft Gift
❤ Native American Dream Catcher --- Featured with brown feathers, swing in the wind when you open your windows; Bad dream catcher to bring you a fantastic dream night; Home decoration ornament for bedroom and party.
❀ Handmade Wall Hanging Decoration ---- Handmade by the professional workers who have more than 3 years of knitting experience; This dream catcher is made of feathers, cotton lines and wooden beads, ideal gift to friends, kids, women, birthday party gifts.
☁ Lightweight Hanging Ornament --- Weight up to 0.4 LB, packed in a small PE pocket with zipper, easy to hanging on a wall or window frame; Total length is 21.6", diameter for big circle is 4.3" and small circle diameter is 1.9".
☀ Best Gift --- This dream catcher is perfect decoration for your home, nursery, party or as a wonderful mother day birthday gift; Also, it is a cat feather toy, buy one for your lovely pets to enjoy a wonderful day.
♪ Car Hanging Decoration --- This dream catcher designed to a wall hanging for your bedroom, living room, it also can be a car hanging to decorate your trip time and environment; it's unique Indian style has a magical power to let you have a colorful travel.
The origins of Dreamcatcher The dream catcher originated in the 18th century. Indians used it to capture beautiful dreams and let nightmares disappear with the morning sun. They believe that the night air is full of dreams. Only dream catchers can filter dreams. Bring them into a beautiful dreamland. The traditional dream catcher is to make a circle from branches, wrap it around the circle with leather, and then use a tendon line to make a net in the circle. Occasionally colored beads are worn on the tendon line, and some feathers are hung from the end of the circle. There is a round hole in the middle of the net. It is said that only good dreams can pass through the hole and flow down the feathers. Nightmares will be trapped in the net and disappear with the next day's sunlight, disappearing without a trace.